Filter by Category
Anatomy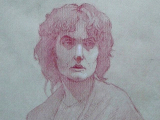 Registration Unavailable
Portrait Drawing (ONLINE) DR 609E_ON
with Morgan Dummitt
Learn to draw classical portraits using photographic references. This class will focus on expressing the structure of the head through the language of drawing. Topics covered will include measurement, proportion, tone, line quality, anatomy and gesture. Explore a variety of traditional materials, from chalks to charcoal, ink wash, and a variety of papers. All materials will be suitable for the home studio. Teaching will be conducted through video lectures, demonstrations, and assignments as well as regular critiques. All levels welcome!
Learning Objectives:
Learn the basics of proportional measurement, value, tone, line, and gesture.
Develop a knowledge of the forms and structural anatomy of the head.
Learn to use photography as an aid to classical drawing techniques.
Master a variety of traditional drawing media.
Produce at least two finished drawings.
Registration Still Available
Materials List: Dummit DR 600EP_ON 2
Image: Morgan Dummitt, Portrait Study, colored chalk on paper