Filter by Category
CE Summer Intensive Courses for 3.0 Credits or Non-Credit
Alla Prima Painting (ONLINE) PT605AP_ON
with Al Gury

Next available session starts Jun 7, 2021 at 9 am

, runs for 3 weeks
Strengthen your oil or acrylic painting skills through this comprehensive exploration of direct, or alla prima, techniques with the chair of PAFA's painting department and noted author of Alla Prima: A Contemporary Guide to Traditional Direct Painting, Al Gury. Instruction will cover the history, color palettes, primary approaches, methods and materials, and aesthetics and styles of direct painting. Each week's study will be devoted to one area of focus: figure and portrait, landscape, interiors, and expressive approaches. Interactive asynchronous course content, including step-by-step painting demonstrations and critiqued assignments, will be supplemented by daily Zoom meetings with the instructor for group discussion, exploration of painting styles, and problem solving. Open to all levels.
Course Objectives
To understand the painting traditions and materials of alla prima painting.
To understand color, brushwork and development of an alla prima painting.
To understand diverse traditions and image making.
To understand the use of a variety of resources as reference for painting.
To understand the planning, starting, developing and finishing of a compositional alla prima painting.
Student Learning Outcomes
Students will be able to develop a strong alla prima painting.
Students will be able to develop a visual point of view.
Students will be able to analyze and understand historical perspectives in alla prima painting and a variety of subjects and composition choices as they may influence a painting process and the development of a personal point of view.
Students will have better visual language and critical thinking skills.
NOTE: This course is available for 3.0 undergraduate credits for $1,800
Register by: May 14
Materials List : Gury PT 605AP_ON
Images: Al Gury, Mountain Woods, oil on panel, 8 x 10 in.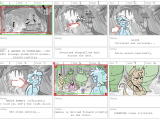 Storyboarding (ONLINE) IL 600EB_ON
with Deon Robinson

Next available session starts Jun 7, 2021 at 9 am

, runs for 3 weeks
Prepare to bring your film or animation ideas to life through the practice of professional storyboarding.  Plan composition, movement, time passage, and dialogue in sequential drawings to shape your story, shot-by-shot.  Learn how to visually communicate ideas through perspective, value, and color and to create clear narratives through impactful staging and composition. Collaborative and individual projects will guide you through translating the written word from open-source scripts and screenplays to generate breakdowns and shot lists, as well as through applying primary storyboarding elements of camera angle, framing height, and movement to convey screen logic. Discussions will address storyboard applications in a variety of art and design fields.  This class is professional practices-driven but is open to serious students of all levels and does not require fine arts drawing experience.  Imagery may be generated through digital or traditional media, but a printer is required.
Learning Objectives
The following course outcomes indicate competencies and measurable skills that students develop as a result of completing this course:
Students will use the creative process, as well as the terminology of design and cinematography, to analyze and create effective storyboards.
Students will use perspective to establish point-of-view in order to develop proper staging in the framing of their compositions.
Students will use dramatic lighting and composition to illustrate mood in their narratives.
Students will diagram and employ the use of camera angles, framing height and movement in their storyboards to convey screen logic.
Students will use breakdowns and shot lists to sufficiently analyze and interpret the written word as visual storyboards.
Students will communicate ideas and research through professionally-presented storyboards.
NOTE: This course is avaialbe for 3.0 undergraduate credits for $1,800.
Register by:  May 14
Materials List: Robinson IL 600EB_ON
Image:  Student storyboard courtesy of Deon Robinson