Filter by Category
CE Summer Session 1: May 24 - July 5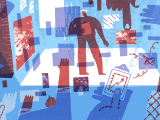 Registration Unavailable
Editorial Illustration (ONLINE) IL 600EE_ON
with James Heimer

Current session started Jun 1, 2021 at 6 pm

, runs for 10 weeks
Explore image making as a means of communication. This intermediate class is ideal for artists who wish to experiment with narrative and conceptual imagery as well as graphic designers interested in a pictorial approach to visual communication.  Students will learn to analyze current news and opinion writing to create imagery with a message. Concept development methods including written brainstorming, thumbnails, and preliminary sketches will be introduced. Techniques combining traditional and digital media will be explored. This is an ideal opportunity for newcomers to digital media and will bridge the gap between the page and screen. In addition to a studio component, students will engage in a number of professional practice discussions focused on the business side of the editorial market.  The course will utilize the online learning platform Canvas, and includes video demonstrations, lectures, and assignments. Weekly group discussions and individual critiques will be conducted via Zoom. Access to a scanner and Adobe Photoshop or other raster graphics software is required for the completion of assignments.  
NOTE: This course is available for 1.0 undergraduate credit for $525
Registration still available
Materials List: Heimer IL600EE_ON
Image: James Heimer, Striking the Right Balance Between Speed and Safety, client: Intercom
PAFA Individual Membership

Current session started Jul 5, 2021
Become a PAFA Member at the Individual Level, and save 10% on CE Classes, Workshops and Master Classes!
Individual $55/year Benefits for 1 adult:
10% tuition discount on CE classes, workshops and Master Classes
Unlimited free admission to the permanent collection and all special exhibitions for 1 year.
10% discount at Tableau Cafè and the Museum Store Free or discounted admission to all ticketed public programs and lectures Members-only tours, events and exhibition previews.
PAFA Member monthly email newsletter.
PAFA members receive $5 off Mural Arts tours. Tours should be booked through Mural Arts with the code PAFA. Limit to two discounted tickets per tour type per year. Must present PAFA membership card at check-in.