Filter by Category
Illustration & Storyboarding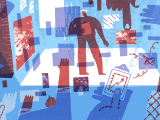 Registration Unavailable
Editorial Illustration (ONLINE) IL 600EE_ON
with James Heimer

Current session started Jun 1, 2021 at 6 pm

, runs for 10 weeks
Explore image making as a means of communication. This intermediate class is ideal for artists who wish to experiment with narrative and conceptual imagery as well as graphic designers interested in a pictorial approach to visual communication.  Students will learn to analyze current news and opinion writing to create imagery with a message. Concept development methods including written brainstorming, thumbnails, and preliminary sketches will be introduced. Techniques combining traditional and digital media will be explored. This is an ideal opportunity for newcomers to digital media and will bridge the gap between the page and screen. In addition to a studio component, students will engage in a number of professional practice discussions focused on the business side of the editorial market.  The course will utilize the online learning platform Canvas, and includes video demonstrations, lectures, and assignments. Weekly group discussions and individual critiques will be conducted via Zoom. Access to a scanner and Adobe Photoshop or other raster graphics software is required for the completion of assignments.  
NOTE: This course is available for 1.0 undergraduate credit for $525
Registration still available
Materials List: Heimer IL600EE_ON
Image: James Heimer, Striking the Right Balance Between Speed and Safety, client: Intercom
Pre-College: Drawing for Comics, DR 723 EC
with Jeff Kilpatrick

Next available session starts Aug 9, 2021 at 10 am

, runs for 1 week
In this course, students will be taught cartooning basics, studying drawing and inking techniques using a variety of professional tools. They will also be taught the language of sequential art (comics). Students will write a story based on real life or imagination, then design characters and environments to be used as they transform that story into a short-form comic. The course will utilize the online learning platform Canvas, and includes videos, lectures and assignments with regular instructor feedback, as well as live chat via Zoom.
Students should be prepared with supplies from the required materials list.
Students have the option of taking this class for 1.0 college credit or no credit. The only difference in experience is that "for-credit" students will receive a grade for their work.
Scholarships are available by application: https://pafacademy.slideroom.com/#/login/program/59548. Please apply for scholarship and get decision BEFORE registering. Scholarship policies here: https://www.pafa.org/school/academics/pre-college/policies
International students are welcome! However, the registration process is different to support international payment systems. Please reach out to precollege@pafa.org to register as an international student.