Filter by Category
Landscape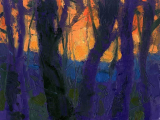 Alla Prima Landscape Painting (ONLINE) PT 605AP_ON
with Al Gury

Current session started Jul 5, 2021 at 4:30 pm

, runs for 6 weeks
Al Gury, Chair of PAFA's Painting Department and noted author of Color for Painters: A Guide to Traditions and Practice, presents this in-depth approach to the skills, materials, colors, history, and techniques of direct landscape painting.
Working from photographs, master works, or available on-site images, learn concepts that will not only improve your landscape painting but also grow your in confidence in your artistic practice. Video demonstrations, images, and written instructions on Canvas will be supplemented by critiques and weekly Zoom discussions every Sunday, 4:30 - 5:30 p.m., beginning July 11. Oil painting will be the primary focus, but all media are welcome.
NOTE: This course is available for 1.0 undergraduate credit for $525
Registration Still Available
Materials List: Gury PT 605AP_ON 2

Image: Al Gury, Mountain Woods, oil on panel, 8 x 10 in.
Drawing with Graphite (ONLINE) DR 610EG_ON
with Jill A. Rupinski

Current session started Jul 7, 2021 at 10 am

, runs for 6 weeks
Graphite is a material that can satisfy the rigor of detailed work or the impulses of the expressive artist. Explore the full potential of this versatile medium through knowledgeable demonstrations of a range of graphite-forms and techniques.  Learn to work through the phases of various mark-making methods to build a disciplined drawing, and progress toward working in more emotive styles and combining techniques. Demonstrations featuring a variety of subject matter will be augmented by instructive examples of materials and original work.  Students may work from their choice of subject in their personal study. 
Registration Still Available
Materials List: Rupinski DR 610EG_ON
Image: Jill A. Rupinski, Midday Nap, graphite on paper
Registration Unavailable
Plein Air in the Park (OUTDOOR) DR 605WP
with Keith Leitner

Current session started Jul 11, 2021 at 9 am

, runs for 5 weeks
Capture the colors of summer en plein air through vibrant watercolor and pastel. Become comfortable and confident with the practice of working outdoors, using either or both mediums, at picturesque Lemon Hill and other select locations around the Philadelphia Museum of Art and Fairmount Park. Instruction will cover means of accurately and expressively depicting outdoor sites, pastel drawing and layering methods, watercolor painting techniques, mixed media applications, color mixing, and the history and capabilities of each medium. All levels welcome. Health-safety measures, including masking and social-distancing, will be practiced.  Learning Objectives:  Learn to observe and depict landscape and cityscape en plein air with attendant materials and set up; Learn color mixing and application of each medium; Study of pigment history and development; Learn about watercolor/pastel history via short discussions of painters and their motifs.  
Register by:  July 7
Materials List: Leitner DR 605WP 2

Image:
Thomas P. Anshutz (1851-1912) Landscape with Trees, n.d., Watercolor on paper, 6 5/8 x 10 in., collection of the Pennsylvania Academy of the Fine Arts, accession # 1971.8.58, Gift of Mrs. Edward R. Anshutz