Filter by Category
Mixed Media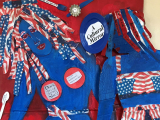 Assemblage Sculpture from Home (ONLINE) SC 700EA_ON
with Colleen O'Donnell

Jul 6, 2020

, runs for 5 weeks
Assemblage is a creative method of sculpture, transforming everyday found-objects into three-dimensional sculpture, as seen in the work of Joseph Cornell and Louise Nevelson. Start with a box, and include photographs, book pages, wrapping paper, natural items, nuts and bolts, electronic bits, dry food – just about anything! This process allows for the creation of dramatic, humorous, emotional and satirical works of art. Be guided through a different topic each week by CE faculty and sculptor Colleen O'Donnell. Live Zoom sessions will be held every Tuesday, 6 – 8 p.m.
Learning Objectives
Relax, have fun, and let the sculpture happen intuitively.
Make something that has value to you personally.
Create a statement about what you are experiencing right now.
Materials List O'Donnell SC 700EA_ON
Register by:  May 29
Image:
Assemblage sculpture from student in Session 1
Will run
Plein Air Painting in Donegal, Ireland - LIVE from Home! (ONLINE) PT 605DI_ON
with Joseph Sweeney

Jul 9, 2020 at 3 pm

, runs for 5 weeks
Working from photographs of Donegal, Ireland supplied by instructor Joseph Sweeney, learn how to paint from photo references in preparation for working outdoors. Topics include the basics on choosing a prime location, reading the weather and light at a particular time of day, and setting up a landscape palette.  Drawing, composition, and color will be emphasized.  Instruction is geared towards oil, acrylic, and pastel, but experienced watercolorists are welcome.  This live Zoom course will take place every Thursday, 3 - 4:30 p.m. (See materials list for more information)
Materials List Sweene PT 605EI
Will run
Collage & Mixed Media (ONLINE) IN 610CM_ON
with Anthony Ciambella

Jul 11, 2020 at 10 am

, runs for 5 weeks
From newspapers to toys and old clothes, artists use almost any materials for their works. This course will guide you through the endless variety of tools, adhesives and supports available, and how to select which will work best for you. This live Zoom class includes weekly presentations on a variety of subjects related to two- and three-dimensional mixed media, along with exhibition and storage strategies.
 Learning Objectives
 Discover materials used in mixed media.
Familiarize you with traditional and contemporary materials.
Investigate manual and power tools as well as the compatibility of materials and adhesives.
Delineate your ideas with the least possible interference from the materials.
Learn to construct simple and complex objects.
Know terms related to mixed media art.
Identify what toxic materials are used by artists, how they are exposed.
Learn the risk factors, effects on our bodies, and safety measures.
Materials List Ciambella IN 610CM_ON
Will run