Filter by Category
Pre-College
Pre-College Intensives: Landscape Painting, PT 710EP
with Roger Chavez

Jun 22, 2020 at 9 am

, runs for 1 week
Explore the exciting and challenging practice of landscape painting! Learn to depict ever-changing light and shadows through rapid decisions and swift mark-making. Study landscape masters to develop tactics for depicting foliage, trees, mountains, atmosphere, and clouds; then take your skills outdoors to paint the nearby landscape in the open air!
Pre-College Intensives: Painting 1: Still Life, PT 710E1
with David Wilson

Jul 6, 2020 at 9 am

, runs for 1 week
Add color to your portfolio by developing your painting skills in oil or acrylic. Work from still life arrangements to explore the fundamentals of painting including the selection and care of materials, painting techniques, and color mixing. Instruction will emphasize composition, value, and color relationships.
Learning Objectives
Students will become familiar with a wide range of painting material and techniques.
Students will acquire a working knowledge of the fundamental principles of painting.
Students will acquire the ability to depict observed and invented form through a mastery of proportion.
Students will demonstrate proficiency in the methods and materials of painting's various disciplines and media.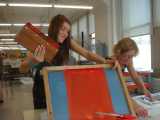 Pre-College Intensives: Printmaking, PR 710E
with Shushana Rucker

Jul 27, 2020 at 9 am

, runs for 1 week
Printmaking enhances drawing/painting skills and creates striking contributions to a college portfolio. Explore the exciting possibilities of traditional line etching, screenprinting on t-shirts or other materials, and the painterly monotype. Learn the methods of image development, printing for each process, as well as the safe handling of all materials.
Learning Objectives
Students will recognize and apply a variety of relief, intaglio, and planographic printmaking techniques.
Students will identify and make use of basic design and color principles in their prints.
Students will analyze and describe historical and contemporary printmaking techniques and styles.
Students will become proficient in the use of carving tools, printmaking implements, and presses.
Students will experiment with printmaking techniques and gain an understanding of mark making.
Students will develop and discuss concepts and image development in the form of structured critique.