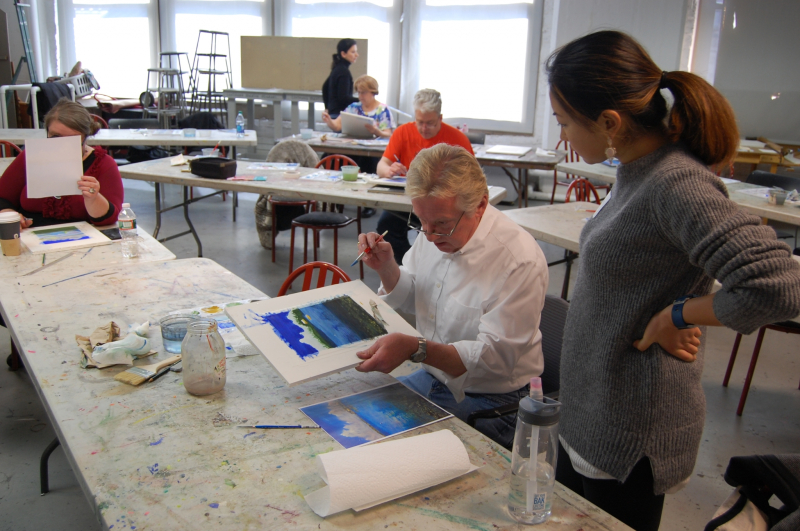 In-Depth Watercolor (Summer Session 2)
with James Toogood
$59500
Fridays, 9 am - 5 pm
Enrich your knowledge of painting with an in-depth look at watercolor. Thoroughly investigate a wide range of watercolor materials and techniques from your choice of landscape, still life, portrait, and figure subjects. Open to watercolorists of all levels and to acrylic/oil painters looking to broaden their skills.
Learning Objectives
Students will learn about color theory as applied to watercolor.
Students will receive a comprehensive explanation of watercolor materials and tools, with particular focus will be paid to the properties of paint and pigments as they interact with the paintbrushes and paper.
Through both discussions and demonstrations, first time participants and beginners will learn a variety of techniques that are fundamental to watercolor, presented in a systematic step by step method. Participants can expect to have regular individual instruction, given at their current skill level.
Focus also will be paid on acquiring the skills needed to achieve a richness of color and a feeling of light.
Participants will work from direct observations from the still life and model, as well as from one's own source materials.
Those not taking the class for credit will have the option to work on landscape, still life, portrait and figure or abstraction, as they wish.
Participants will be exposed to a variety of watercolor styles, and encouraged to discover one's own personal aesthetic.
The course is ultimately designed to equip participants with the knowledge and skills necessary to make accomplished, personally rewarding watercolor paintings.
NOTE: This course is available for 1.5 undergraduate credit for $750.
Half-Day Option: For greater flexibility, this course is available for half-days (non-credit only), 9 a.m. - 12:30 p.m. or 1:30 - 5 p.m., for $325. Note that courses are designed for full-day attendance: information and demonstrations presented in one portion of the day may not be repeated in the other half. Students wishing to add the remaining portion can pay the balance by calling the CE office at 215-972-2029.
Important:  All students enrolling in on-campus courses must submit proof of full COVID-19 vaccination and booster (or documentation for a medical/religious exemption request) upon registration.  Open the Agreement form during checkout to upload an image of your vaccination card or exemption documentation, or submit vaccine and booster documentation below. Onsite card display and card images emailed to the CE office cannot be accepted. Registration for any on-campus course is pending without vaccination documentation or exemption approval. See the CE Policy Guide below for complete COVID-19 safety requirements. 
Register by:  Registration still open!
Session 1:

Jul

8

-

Aug

12th

,

2022

Fri

for

6 weeks

from

9:00 am - 5:00 pm

Will run
Samuel M.V. Hamilton Building
(215) 972-7600
128 North Broad Street
Philadelphia, PA 19102 Get directions
Room: 610