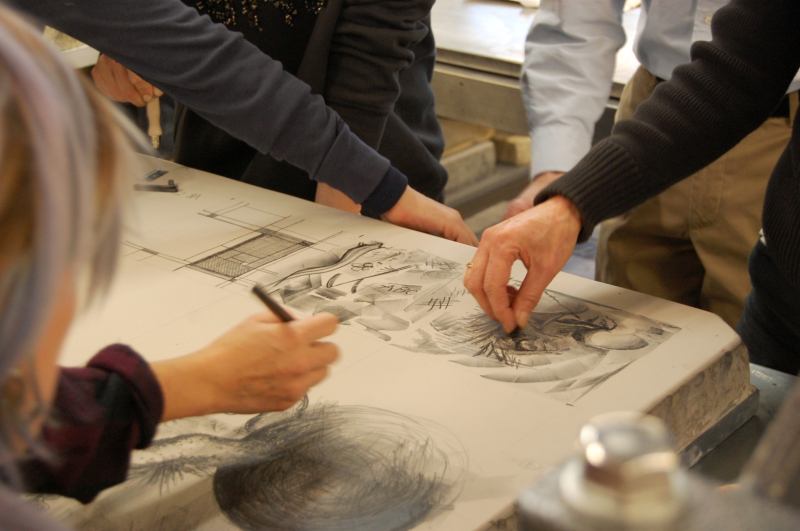 Lithography
with Ronald Wyffels
$41500
Wednesdays, 6 - 9 pm
Lithography is a versatile printmaking process that allows for a complete range of drawing effects:  contour line, hatching/cross-hatching, painterly wash applications, expressive mark-making, and reductive techniques.  Learn all aspects of the lithographic process through step-by-step demonstrations and hands-on practice:  preparing a traditional stone or lightweight aluminum plate; creating your own drawing from observation, imagination or photographic transfer using a range of drawing materials; selecting paper; printing in black-and-white and color; and editioning your prints.  Tuition includes a $20 lab fee.
Learning Objectives
Students will gain a basic understanding of the lithography printing process.
Students will acquire technical experience in preparing stones, plates, & ink.
Students will learn basic stone & plate drawing, etching and processing techniques.
Students will acquire technical expertise by way of proofing and printing their stones & plates, included learned skills in roller use & litho press operation.
Students will learn printmaking professionalism including printing editions on clean registered printmaking paper, signing and numbering editions appropriately.
Students will learn the importance of image development through individual reviews and by exploring various possibilities with the process.
Students will develop critical visual and verbal skills by way of individual discussions with the instructor and with their peers.
Students will advance their individual art concepts and expand their artistic territory through new technique & material uses.
NOTE: This course is available for 1.0 undergraduate credit for $545.
Important: All students enrolling in on-campus courses must submit proof of full COVID-19 vaccination and booster (or documentation for a medical/religious exemption request) upon registration. Open the Agreement form during checkout to upload an image of your vaccination card or exemption documentation, or submit vaccine and booster documentation below.Onsite card display and card images emailed to the CE office cannot be accepted. Registration for any on-campus course is pending without vaccination documentation or exemption approval. 
Register by: May 25
Session 1:

Jun

1

-

Aug

3rd

,

2022

Wed

for

10 weeks

from

6:00 - 9:00 pm

Will run
Samuel M.V. Hamilton Building
(215) 972-7600
128 North Broad Street
Philadelphia, PA 19102 Get directions
Room: Print Shop (660)