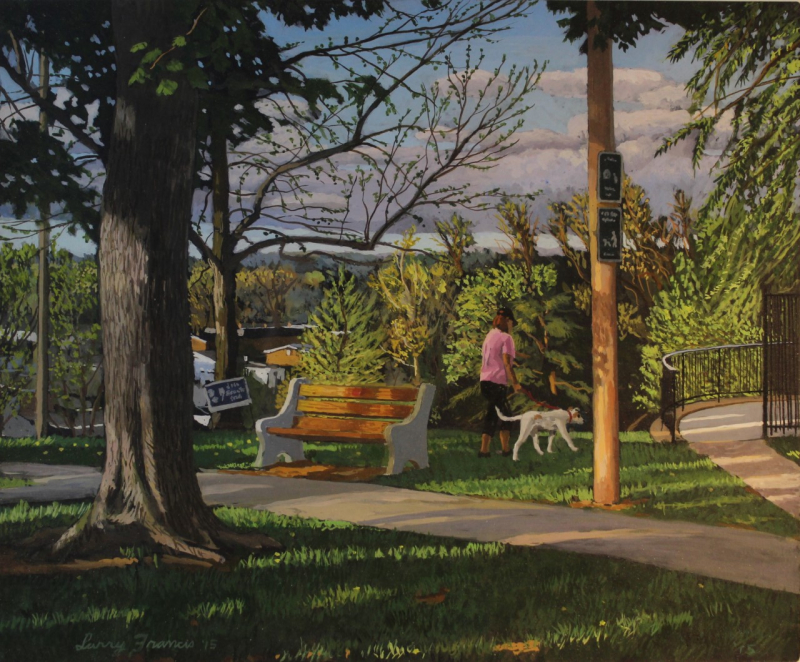 Plein Air Drawing and Painting (Outdoor)
with Larry Francis
$39500
Sundays, 9 a.m. - 2 p.m.
Capture the small-town beauty Manayunk's hilly streets, rowhomes, and storefronts.  Learn to create a convincing sense of space, light and time of day while depicting streetscapes, trees, water and sky.  Color mixing and painting techniques for oils will be demonstrated, but all drawing/painting media are welcome.  Located just 15 minutes outside of Philadelphia, Manayunk offers engaging urban and riverside neighborhood subjects with parking, shade, provisions and facilities available. Note: Students are responsible for their own transportation to painting locations. 
Image:  Larry Francis, Walking the Dog [Gorgas Park].
Register by:  April 7 
Session 1:

Apr

16

-

May

14th

,

2023

Sun

for

5 weeks

from

9:00 am - 2:00 pm
Manayunk
For directions, call us at (215) 972-7632