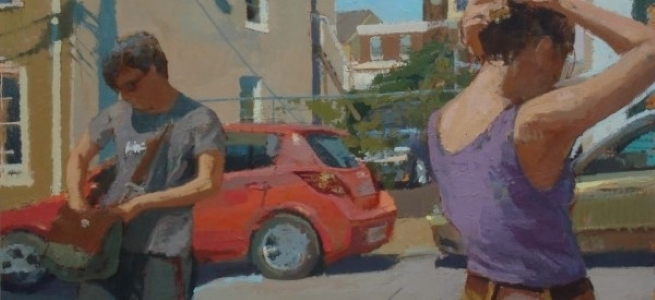 The PAFA Atelier (In-Person)
with Peter Van Dyck
$84500
Wednesdays, 9 a.m. - 4 p.m. 
This combination of instructed class and open studio is designed for students interested in advancing their representational drawing and painting.  Design and work on your own personal projects utilizing the cast collection, figure/portrait models, and still life or interior spaces, assisted by individual critiques and group instruction on topics of broad concern or interest.  This course features intermediate-level instruction for students with prior drawing/painting experience.  Note: Tuition includes a $50 model fee. 
Optional: This course is available for 1.0 undergraduate credit for $1,150 (including model fee). Select credit option when registering. 
This course does not meet on March 22 & 29 but runs through PAFA's Spring Break. 
Please note:  All students enrolling in on-campus courses must submit proof of full COVID-19 vaccination and at least one additional booster upon registration. Registrations lacking vaccine documentation or approved medical exemption one week after submission are subject to withdrawal. Requests for medical or religious exemptions must be approved by PAFA's head of security. Withdrawals for noncompliance will result in fees. See CE Policy Guide for complete COVID safety requirements and policies.  
Image:  Peter Van Dyck, Couple Manayunk
Register by: January 6 
CE Policy Guide Winter/Spring 2023 
CE Proof of Vaccination/Booster Form - SUBMISSION REQUIRED AT TIME OF REGISTRATION 
Session 1:

Jan

18

-

Apr

19th

,

2023

Wed

for

12 weeks

from

9:00 am - 4:00 pm
Historic Landmark Building
(215) 972-7600
118 North Broad Street
Philadelphia, PA 19102 Get directions
Room: Cast Hall