Filter by Subcategory
All CE Fall 2023 In-Person and Online Courses & Workshops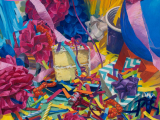 CE Gift Certificate

Current session started Oct 26, 2023
A CE course or workshop makes a great gift!  Artists of all levels will appreciate the opportunity to hone their skills or try something new under the expert instruction of PAFA faculty and amidst an enthusiastic community of fellow student-artists, online or in-person.  With courses available year-round in a variety of subjects, lengths and formats, recipients can be sure to find the perfect art-making gift experience they'll enjoy! 
CE course pricing varies by course length, format, and credit option.  Gift Certificates start at $50, with add-ons for following amounts* (selection available during checkout):
$100 
$150
$250 (covers most 6-week online short courses)
$300 (covers most 6-week in-person short courses)
$500 (covers up to 10-week in-person courses)
* Specific course tuition or other amounts available upon request.
Purchase your gift by registering below.  Gift purchasers must register under their own name and contact information to make payment and receive receipt confirmation.  Don't worry -- we'll ask for your gift recipient name and contact information, along with your gift amount selection, later on the registration form!    
Gift purchasers will receive a digital gift certificate with a redemption code to their registration email within 2 business days.  Print and present your gift certificate or have it sent directly to your artist recipient!  Please purchase no later than 5 p.m. on December 20 for receipt by Christmas Day. 
Note:  PAFA gift certificates are nonrefundable but may be transferred to other individuals and from semester to semester.
Membership discounts are not available for gift certificate purchases.
For questions or advice on course/amount selection, or if you wish to request another amount, please email continuinged@pafa.edu or call 215-972-7632. 
Image: Allison Syvertsen.
The Figure as a Point of Departure (Online)
with Kassem Amoudi

Current session started Dec 8, 2023 at 10 am
Friday - Sunday, 10 a.m. - 1 p.m.  
Instructor: Kassem Amoudi 
Credit: Non-Credit Only 
This workshop is not about the traditional way of painting the figure. If you are tired of getting lost in the details and traditional modes of representational painting, and you want to take a risk by exploring new ways of expressing the human form, this class is for you. Paint and draw the human figure in a looser and more expressionistic contemporary manner. Refine your painting skills to create a lively surface which will be considered a playground for intuitive creativity, technique, and skill. Expert instruction and advice from the instructor will push students to explore new possibilities and work more intuitively, allowing unplanned marks and passages to become artistic breakthroughs. Establish pictorial unity through visual metaphor and focal points and explore the power of using "active" and "quiet" areas. PowerPoint presentations and examples of contemporary ways of using the figure will enhance your understanding of the abstract qualities of space, line and color. Sessions will include live painting time, with critiques and advice from the instructor as he works one-on-one with each student. Open to all levels: You do not have to have extensive experience with painting the figure to make successful paintings. Note: Due to the emphasis on live instructor feedback and in-class painting, this Zoom class is not recorded.
Image: Kassem Amoudi.
Register by: December 1 
Fall 2023 CE Policy Guide, including updated Withdrawal/Refund Policies
Portrait in Pencil Workshop (In-Person)
with RA Friedman

Current session started Dec 9, 2023 at 9 am
Saturday and Sunday, 9 a.m. - 4 p.m.  
Instructor: RA Friedman 
Credit: Non-Credit Only 
Using inexpensive materials, this hands-on workshop will introduce the concepts and methods needed to create a strong sense of dimension and likeness in your portrait drawings. Explore the proportions and planes of the head, neck and shoulders. Learn how to create astructural foundation and how to easily manage anatomy by breaking down forms into simplegeometric shapes. Instruction will address different strategies for creating a finished tonal portrait as well as tips and tricks that will help you draw like a pro!
Image: RA Friedman.
Register by: December 1 
Fall 2023 CE Policy Guide, including updated Withdrawal/Refund Policies