Filter by Category
Design
Classical Design for the Contemporary Artist (ONLINE) DR 700ED_ON
with Shushana Rucker

Sep 21, 2020

, runs for 10 weeks
REGISTRATION STILL AVAILABLE!
Design is the application of the formal elements of aesthetics to an artwork to enhance its strengths.  The first seven classes of this ten-week course will explain the formal elements of design:  composition, space, value, light, color, line, and texture/pattern.  Course content will include art historical discussions using artists past and present to exemplify design, short video demonstrations of the applications of each principle, and time to experiment and apply what you learned to your own work. In the final three classes, students will apply these elements to their work, with formal critiques at the end of each class. This class will be team taught by Shushana Rucker and Charles Muldowney, allowing students to benefit from varied input during critiques and different points of view during lectures and discussions.  
A weekly, live Zoom meeting will be held every Wednesday, 10 - 11:00 a.m.  
Course Schedule
Composition – This class will discuss the arrangement of forms, rhythms, colors, values, and lines in a work to create an interesting image. Principles like the Golden Ratio and other concepts will be made simple. Students will be able to identify these elements in the work of classical and contemporary artists. The works of Hopper, Bartlett, Vermeer, Millet, Poussin, and others will be discussed.
Space – This class will investigate the creating of a sense of depth in a work using size, position of forms, value, saturation, edge and perspective. Atmospheric perspective, linear perspective, intuitive perspective will be discussed and demonstrated. The class will look at the work of Alberti, Masaccio, Durer, Leonardo DaVinci, Giacometti and others.
Value – This class will examine the creating of a range of dark and light in a work. High key and low key value will be discussed and demonstrated. The class will look at work of Prud'hon, Klee, Lorrain, Rigaud, Hassam, Degas, Monet, Manet and others.
Light – This class will study manipulating the value and texture to create a sense of illumination and drama. The class will look at the work of Innes, Seurat, Rembrandt, Rubens, Hopper, Caravaggio, Vermeer, Goya and Whistler.
Color – This class will examine principles of color to create mood, space and harmony. Artists studied: Van Gogh, Matisse, Piper, Diebenkorn, Rothko and others.
Line – this class will explore the use of line in creating planes, volume, mass, gesture and space.  The class will look at the work of Van Gogh, Rembrandt, Kline and others.
Texture and pattern – this class will look at creating a rich visually interesting surface that provides contrast, variety, and decoration. Artists studied: Escher, Close, Mondrian, Pollock, Klimt, Essaydi and Fish.
Learning Objectives:
Students will recognize and apply the seven basic elements of classical design.
Students will become familiar with several important art historical figures, and their influence on design.
Students will experiment with a variety of techniques and materials to gain an understanding of how mark making influences design.
Students will develop and discuss concepts and image development in the form of structured critique.
Students will gain confidence in their ability to create interesting design within their own artwork.
Note: This course is available for 1.0 undergraduate credit for $525
Materials List: Rucker & Muldowney DR 700ED_ON
Image:  Shushana Rucker, "The Upside Down," oil on panel, 20 x 20 in.
Will run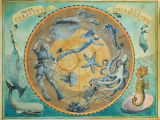 Color and Design in Gouache (ONLINE) PT 630ED_ON
with Kate Samworth

Oct 6, 2020 at 1 pm

, runs for 8 weeks
Learn the essentials of color mixing and harmony using gouache paint (opaque watercolor) – essential information for artists in all media.  Develop your understanding of value, color temperature, and simultaneous contrast through a series of guided exercises using limited palettes.  Basic techniques of painting with gouache will also be covered including control of flow, paint application and brush work.  Subjects will include repeat pattern design, perspective drawing, tesselations, and making copies of masterworks.
Register by:  October 2
Materials List : Samworth PT 630D_ON
Kate Samworth (BFA '10) explores themes of environmental change, balancing a sense of wonder and possibility with an expression of mourning. Her passion for natural history illustration, dark fairy tales, and satire converge in her illustrations.  Samworth has illustrated several books. Her first, Aviary Wonders Inc., won the Kirkus Prize for Young Readers. The exhibition includes work from published and ongoing projects, including the finely detailed scratchboard drawings for Why Fish Don't Exist, a work of non-fiction for adults by NPR journalist Lulu Miller, to be released this April by Simon & Schuster.
Image: Kate Samworth, "Celestial Map," mixed media, 11 x 15 in.
Will run