Filter by Category
Critique
Critique with Neysa Grassi (ONLINE) IN 747NG_ON
with Neysa Grassi

Jun 5, 2020 at 9 am

, runs for 5 weeks
Stimulate your art-making with an infusion of new ideas and insights in a weekly, one-on-one critique with acclaimed artist and MFA faculty-critic, Neysa Grassi.  Grassi will offer supportive, non-judgmental feedback on your artwork while helping you to dispel feelings of self-criticism or discouragement.  Learn to perceive doubt as a tantalizing entry for creative investigation rather than a destructive force.  Half-hour critiques will take place via Zoom every Friday beginning at 9 a.m.
Materials List to Follow
Neysa Grassi is known for her gouache, mixed media, and oil paintings whose surfaces reveal the intense physicality of her creative process. Through multiple layers of paint that have been applied, manipulated, wiped out, and covered again, she creates a tactile quality that variously evinces spontaneous energy or calculated meditation.  Grassi is a recipient of a Pew Fellowship and has had solo exhibitions at several museums, including the Pensacola Art Museum in Florida and PAFA, as well as numerous one-person exhibitions in galleries in Philadelphia and New York. Her work is included in the permanent collections of PAFA, the Berman Museum of Art, the Palmer Museum, the Philadelphia Museum of Art, and the Woodmere Art Museum. She is represented by Locks Gallery, Philadelphia. She is a critic in PAFA's MFA program.
Image:
Neysa Grassi, Poet's Garden (detail), 2011, oil on linen, 40 1/8 x 40 1/8 in. Courtesy of Locks Gallery, Philadelphia.
Will run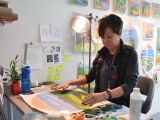 Summer Studio Critique Program (Online)
with Neysa Grassi

Jul 6, 2020

, runs for 6 weeks
This six-week online program is designed for visual artists and educators who desire constructive feedback on their artwork, as well as the support and interaction of an artistic community. Stimulate your personal artistic growth through individual weekly critiques from a stellar ensemble of nationally and internationally known artists, including members of PAFA's acclaimed faculty, as well as discussion, group critiques, and virtual artist studio visits.
Weekly one-on-one critiques will be conducted via live Zoom videoconferencing sessions; work sharing and discussion boards, as well as critic-provided visual references or readings, will be available via Canvas, PAFA's online learning management system.  Weekly critiques will be scheduled each Friday by time-slot sign-up.  Lead critic Neysa Grassi will host group critiques/discussions and virtual field trips and artist studio visits.  These will be scheduled to best accommodate the group's needs.
View the complete course description and list of critics here.
Registration Deadline:  Rolling, on a space-available basis. Enrollment is limited to 12 participants.
Withdrawal/Refund Deadline:  June 28 ($50 fee applies; no refunds issued for withdrawals after this date)
Academic Credit:  This program is available for non-credit for $750, or for either 4.0 undergraduate credits or 3.0 graduate credits for $1,500.  Select credit choice with price adjustment during checkout. See CE's Policies and Procedures to review credit policies.
Additional Benefit:  Studio Critique registrants receive a 10% tuition discount on all subsequent PAFA CE Summer 2020 Classes!
Review Studio Critique Program registration and policy information here prior to registering. 
Will run