Filter by Category
Printmaking
History of the Printed Image
with Tony Rosati

Jul 8, 2020 at 1 pm

, runs for 5 weeks
Join Tony Rosati, Chair of the PAFA Printmaking Department for an overview of important prints and books spanning the 15th to the 21st centuries.  Learn about artists in their context and the evolution of various printmaking mediums.  View and discuss traditional and contemporary milestone prints and books from the collections of the PAFA museum, the Philadelphia Museum of Art, the National Gallery of Art and the Library of Congress.
Will run
Fabric Printing (ONLINE) PR 620EF_ON
with Lisa Hamilton

Jul 10, 2020 at 10 am

, runs for 5 weeks
Discover they joy of printing on fabric with Lisa Hamilton, master printmaker and Shop Manager of the PAFA Printmaking Department.  This class will introduce students to a variety of low-tech techniques including relief, collograph and stencil that can all be done easily at home without a press or screen with water- or oil-based inks.  Single and repeat designs will be explored. Printing on fabric can be the end result such as a t-shirt or scarf or the starting point for a painting, collage material or sewing into a sculpture.  This is a live Zoom class (See materials list for more information).
Materials List Hamilton PR 620EF_ON
Will run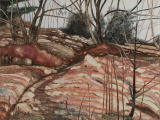 Hand-Printed Monotype (ONLINE) PR 604EH_ON
with Tony Rosati

Jul 11, 2020 at 10 am

, runs for 5 weeks
Join Tony Rosati, Chair of the PAFA Printmaking Department, from his home studio for this live Zoom monotype class.  Monotypes are unique painterly prints created by painting and drawing with ink on a slick surface and transferring the image onto paper by way of a press or hand printing.  This course will focus on hand-printed methods, introducing students to a variety of additive and subtractive techniques, exploring working in both color and black and white. Mixed media approaches, an array of paper choices, and green cleanup methods will also be presented. 
Materials List Rosati 604EH_ON
Register by:  June 26
Image:
Tony Rosati, Hillside with Trees and Fissure, oil paint monotype on gray wove paper, 17 3/4 x 24 7/8 in., collection of the Pennsylvania Academy of the Fine Arts, accession # 1986.35, John S. Phillips Fund purchase
Will run