Filter by Category
Digital Media
Introduction To Digital Photography (ONLINE) IN 660PH_ON
with RA Friedman

Next available session starts May 25, 2021 at 7 pm

, runs for 10 weeks
Achieve the technical knowledge and creative camera skills needed to make powerful, professional-quality photographs using a DSLR or mirrorless camera, from initial capture to final print.  Learn the functions, modes, and menus of your camera; how they affect picture-taking; and how to select the appropriate settings for a given environment.  Instruction will address shooting in RAW format, employing expressive natural and artificial light, creating setups for portraiture, photo-editing, and post-processing in Adobe Lightroom.  Develop a unified body of work ready for exhibition, publication, or a portfolio.  Demonstrations, discussions, reviews and short weekly projects are designed to get you up, out and behind the camera!  Prior photography experience is helpful, but not necessary.  A fully adjustable (pro, "prosumer") DSLR or mirrorless camera, as well as Adobe Lightroom and Photoshop or Gimp software, required.  A weekly live Zoom session will be held every Monday, 7 – 8 p.m. 
Note: This course is available for 1.0 undergraduate credit for $525
Register by: May 14
Materials List : Friedman IN 660PH_ON

Image: RA Friedman, digital photograph
Editorial Illustration (ONLINE) IL 600EE_ON
with James Heimer

Next available session starts Jun 1, 2021 at 6 pm

, runs for 10 weeks
Explore image making as a means of communication. This intermediate class is ideal for artists who wish to experiment with narrative and conceptual imagery as well as graphic designers interested in a pictorial approach to visual communication.  Students will learn to analyze current news and opinion writing to create imagery with a message. Concept development methods including written brainstorming, thumbnails, and preliminary sketches will be introduced. Techniques combining traditional and digital media will be explored. This is an ideal opportunity for newcomers to digital media and will bridge the gap between the page and screen. In addition to a studio component, students will engage in a number of professional practice discussions focused on the business side of the editorial market.  The course will utilize the online learning platform Canvas, and includes video demonstrations, lectures, and assignments. Weekly group discussions and individual critiques will be conducted via Zoom. Access to a scanner and Adobe Photoshop or other raster graphics software is required for the completion of assignments.  
NOTE: This course is available for 1.0 undergraduate credit for $525
Register by: May 14
Materials List: Heimer IL600EE_ON
Image: James Heimer, Striking the Right Balance Between Speed and Safety, client: Intercom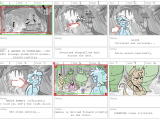 Storyboarding (ONLINE) IL 600EB_ON
with Deon Robinson

Next available session starts Jun 7, 2021 at 9 am

, runs for 3 weeks
Prepare to bring your film or animation ideas to life through the practice of professional storyboarding.  Plan composition, movement, time passage, and dialogue in sequential drawings to shape your story, shot-by-shot.  Learn how to visually communicate ideas through perspective, value, and color and to create clear narratives through impactful staging and composition. Collaborative and individual projects will guide you through translating the written word from open-source scripts and screenplays to generate breakdowns and shot lists, as well as through applying primary storyboarding elements of camera angle, framing height, and movement to convey screen logic. Discussions will address storyboard applications in a variety of art and design fields.  This class is professional practices-driven but is open to serious students of all levels and does not require fine arts drawing experience.  Imagery may be generated through digital or traditional media, but a printer is required.
Learning Objectives
The following course outcomes indicate competencies and measurable skills that students develop as a result of completing this course:
Students will use the creative process, as well as the terminology of design and cinematography, to analyze and create effective storyboards.
Students will use perspective to establish point-of-view in order to develop proper staging in the framing of their compositions.
Students will use dramatic lighting and composition to illustrate mood in their narratives.
Students will diagram and employ the use of camera angles, framing height and movement in their storyboards to convey screen logic.
Students will use breakdowns and shot lists to sufficiently analyze and interpret the written word as visual storyboards.
Students will communicate ideas and research through professionally-presented storyboards.
NOTE: This course is avaialbe for 3.0 undergraduate credits for $1,800.
Register by:  May 14
Materials List: Robinson IL 600EB_ON
Image:  Student storyboard courtesy of Deon Robinson