Filter by Category
Drawing
Mindful Art-Making in Challenging Times 2 (ONLINE) IN 750EH_ON
with Dona Duncan

Next available session starts Mar 4, 2021 at 1 pm

, runs for 5 weeks
Cultivating mindfulness, or wakefulness, allows you to be fully present and aware of your actions, without feeling distracted and overwhelmed by other thoughts or outside influences.  Art-making is a natural way of practicing mindfulness, and is especially important in these challenging times. Mindful art-making has been shown not only to reduce stress and improve communication skills, but also to benefit those suffering from memory loss, depression, or PTSD.  Discover how creativity can enrich your daily life.  Under the guidance of Dona Duncan, artist and registered Art Therapist, practice light mediation and relaxation techniques to cultivate mindfulness, and express your thoughts and feelings through drawing and painting projects in a non-judgmental atmosphere.  Projects will be assigned in each class and discussed the following week.  No artistic experience necessary.
Register by:  February 26
Materials List:Duncan IN 750EH_ON Part 2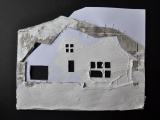 Collage & Assemblage (ONLINE) Section 2
with Steve Nocella

Next available session starts Mar 6, 2021 at 10 am

, runs for 6 weeks
Explore the expressive potential of collage for producing both aesthetic imagery and philosophical statements. Experiment with a variety of materials including drawing and painting media, paper, cardboard, fabric, metal, photographs, and found objects; and combine them using assorted fastening techniques such as gluing, nailing/screwing, or sewing. Stimulate your creativity by responding to assigned problems and prompts, and critically examine the resulting compositions as well as the implied ideas. Realize the tentative or "trial and error" nature of the collage process as a means to discover and learn, and ultimately affirm, your unique and individual aesthetic assertions.
Register by: February 26
Materials List:
Image:
Steve Nocella, House Construction, mixed media