Filter by Category
Photography
Introduction to the Digital Camera Workshop
with RA Friedman

Next available session starts Jul 16, 2022 at 1 pm
Saturday & Sunday, 1 - 4 pm
Have a new dslr or mirrorless camera? Unsure what all those buttons, dials, and menus do? This two-afternoon course will explore the various systems and options your camera offers and how you can streamline and customize them. Become acquainted with which modes and techniques work best for various conditions. Learn exposure theory and digital workflow, and test out your camera's operating limits. Soon, you'll be taking photos with both confidence and control!
Important: All students enrolling in on-campus courses must submit proof of full COVID-19 vaccination and booster (or documentation for a medical/religious exemption request) upon registration. Open the Agreement form during checkout to upload an image of your vaccination card or exemption documentation, or submit vaccine and booster documentation below.Onsite card display and card images emailed to the CE office cannot be accepted. Registration for any on-campus course is pending without vaccination documentation or exemption approval. See the CE Policy Guide below for complete COVID-19 safety requirements. 
Register by: July 8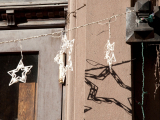 Photoshop for Photographers Workshop (Online)
with RA Friedman

Next available session starts Jul 30, 2022 at 1 pm
Saturday & Sunday, 1 - 4 pm
Photoshop has become the editing tool of choice for photography: an essential part of the "digital darkroom," allowing the photographer to make precise corrections to carefully defined parts of a photo. It is nearly indispensable for refining an image to make it the most impactful, especially if it is to be digitally printed. This two-session hands-on workshop will focus on the needs of photographers and show you how to unlock the potential within the program. Learn how to do quick edits for things like social media and how to work with layers and masks -- a method that gives you virtually unlimited image control.
Image: RA Friedman, detail.
Register by: July 22